Three-phase motor 0.09Kw 0.12HP 230/400V 3000 rpm Flange B5
Three-phase electric motor 0.09kW (0.12HP) 230/400Vac., 3000 rpm (2 Pole), Flange B5, aluminum housing. Manufactured under European IEC regulations.
Voltage: 230/400Vac 50/60Hz
Number of poles: 2
Revolutions: 3000 rpm
Flange: B5
Shaft diameter: 9mm
Flange diameter: 120mm
Power: 0.09Kw - 0.12hp
Size: 56M1
Energy efficiency: IE1
Representative image for illustrative purposes, the article supplied shall correspond to the specifications indicated.
Three-phase electric motor 0.09kW (0.12hp) 230/400Vac 3000 rpm Flange B5. Made of cast aluminum.
Standardized three-phase electric motors for general purposes, manufactured under European IEC standard in aluminum with removable foot . Windings in enameled copper with class F insulation. The execution of the housing is closed, it has a retainer on the output shaft that gives it a degree of protection IP55.


characteristics:
Manufacturer/Importer: Motorseg
Reference: SS-56M1-2 B5
Motor Type: Asynchronous squirrel Cage
Efficiency: IE1
Voltage: 230/400 Vac., III 50/60Hz
Number of poles: 2
Revolutions: 3000 (2800)
Power: 0,09 Kw (0,12HP)
Intensity: 0.57/0.27 A
Yield: 62%
Continuous service: S1
Degree of protection: IP55
Clamping type: Flange B5
Shaft diameter: Ø9mm
Flange diameter: 120mm
Housing size 56 (56M1)
PAM Flange: 120/9
Color: Blue
Housing Material: Aluminum
Weight: 3,6 Kg
CE Marking
For more information, other powers or executions consult.
As in any asynchronous electric motor, the installation of a motor circuit breaker is mandatory to avoid overload damage.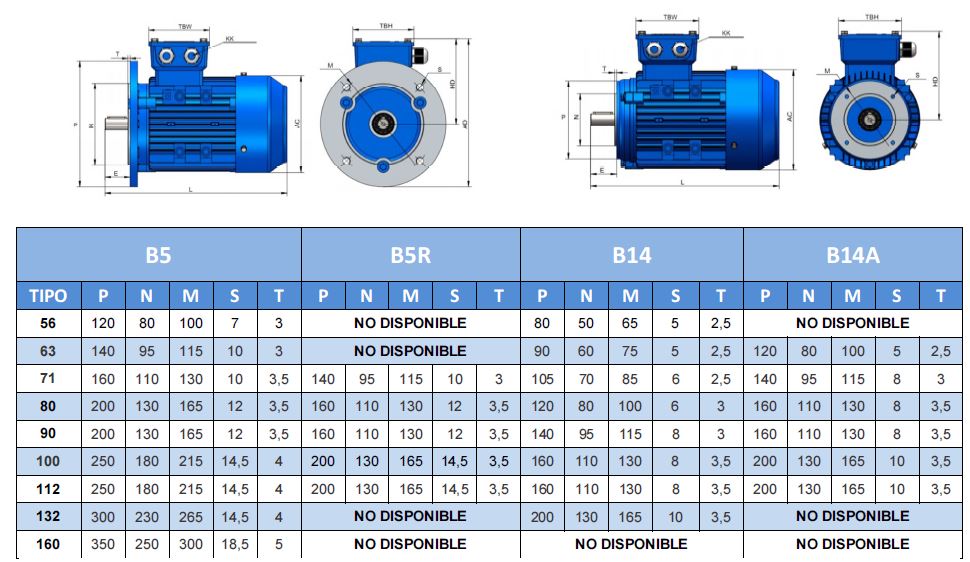 To expand the information you can download the technical sheet by clicking on the "Attachments" tab. Material for professional use, install in compliance with current regulations at the place of installation.
Engine intended to be used exclusively as a spare part for machinery and / or automatic systems.
Questions
Be the first to ask a question about this product!
Question about the product
16 other products in the same category:
Customers who bought this product also bought:
Three-phase frequency converters
1 review
Free shipping Spain and Portugal!